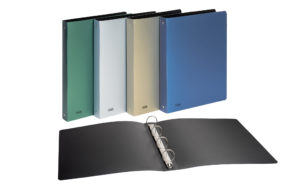 Favorit adds the METAL SERIES
to its product portfolio with an elegant, fancy and trendy colour palette. Designed to meet the widest range of usage needs, from work to school/university, the METAL matt polypropylene products stand out thanks to their special metallic effect finish in 4 brilliant colours: green, silver, gold and blue, really impossible to go unnoticed.
The new series feeatures 4-ring round binders Ø 30 and 15 mm, 20/40/60 display books and 3-flap folders 24×33 cm with grey round closing elastic. The 4 colour shades change their reflection depending on the light. The long-lasting material, which recalls the strength of precious metals, allows for intensive use. Ideal for brilliant and contemporary storage.