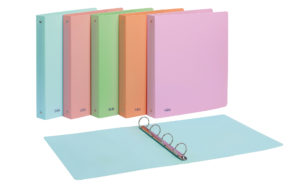 Favorit, always innovative and modern in its proposals, paints the 2019 with pastel shades thanks to the launch of the new P@stel polypropylene series in light blue, powder pink, emerald, peach and lilac colours.
P@stel is a complete line of binders, display books, 3 flap folders and punched pockets. The range is completed with elegant high-thickness pockets with button closure, great to protect and carry documents, and bag cases with handle, 38×29 cm. size, resistant, capacious and particularly innovative, as they allow to carry a drawing ruler, inserting it horizontally into two slits of the closing flap.

P@stel, a coordinated range made to keep up with the times … at home, school and office.